ALANNA MCGINN – Central Canada
ALANNA MCGINN is a certified Sleep Consultant and mother of three wonderful children (1 + twins!).  When her sleep journey began, with her eldest daughter she realized there were many parents dealing with the same sleep issues with their babies and toddlers.  After her extensive research and teachings for her own daughter she began to use her knowledge and passion to help other sleepless moms and dads.  She wanted to use her awareness, ability and understanding, to help others who were struggling with the same sleep issues she had. It was so rewarding that she became a certified Infant and Toddler Sleep Consultant from the extensive training program at Family Sleep Institute, and Good Night Sleep Site was born as were her twins!
For over 5 years, she has helped countless parents overcome their sleep challenges.  Her public speaking and seminars are sought after at parenting functions and major children organizations throughout her community, she is published and resident Sleep Expert in multiple parenting publications, but most importantly nothing makes her happier than seeing her advice and support help a child sleep soundly throughout the night and establish regular nap times. Through her studies, infant and toddler sleep experience, and natural sleep instincts, Alanna strives in helping all families overcome their sleep challenges and have happy smiles in the morning.
MARIA ROBERTSON – Eastern Canada
MARIA ROBERTSON is the founder and owner of The New Mummy Company Inc., which provides a wide range of prenatal and postpartum services across Canada. Maria has over 16 years international experience as a newborn consultant specialising in sleep and caring for multiples. Maria is a British trained Maternity Nurse, Sleep consultant and Postpartum Doula. 
Maria works for some well know faces in Hollywood and is a sought after expert due to her down to earth attitude and experience with newborns and their associated sleeping habits. Now proud to call Canada home for herself and her company, Maria when not working directly helping families and newborns loves to spend time with her husband and golden retriever. Maria was proud to be featured on the hit ABC show "The View" with her client Amanda Peet calling Maria "A baby and toddler whisperer".
JOLEEN DILK SALYN – Western Canada
JOLEEN DILK SALYN is a certified pediatric sleep consultant, mother of two and founder of Baby Sleep 101. She helps tired parents get their children on quality sleep routines by working with the science of sleep and healthy sleep best practices. In addition to her certification as a consultant, she also holds a Bachelor and Post Baccalaureate in Education.
Like many parents, Joleen struggled to get her own child to sleep well. When sleep deprivation finally reached its breaking point, Joleen was determined to figure out a way to get her child's routine back on track. Once it was, her whole family's quality of life dramatically improved. It was at this point that she was able to fuse her love of teaching with her new found passion to help exhausted families as a sleep consultant.
In addition to her private practice, Joleen works at one the premier family resource centres in her city where she uses her skills as an educator to teach parents about the benefits of sleep routines so that their children get the rest that their bodies need for optimal growth and development.
She also is regularly asked to provide advice as a sleep expert in local and national media, parenting and teaching resources, as well as to parenting groups and conferences.
In her spare time, Joleen can be found scouring Pinterest for recipes and craft ideas, or singing 80s tunes with improvised, child friendly lyrics to her kids.
VIOLET GIANNONE – United States – Eastern Region
VIOLET GIANNONE, RN is the Owner and Founder of Sleep, Baby, Sleep a online pediatric sleep consulting company. Violet is a Registered Nurse who has over 15 years experience in the medical field. She has worked in a variety of settings from pediatrics to geriatrics. Violet is a professional member of the National Sleep Foundation, member of the International Institute of Complementary Therapists, Regional Representative for the International Association of Child Sleep Consultants. She started her sleep consulting company after the birth of her first baby. Violet knows first hand what it's like to be up all hours of the night with a sleepless baby. So she created a program to help babies get a restful night's sleep. Believing there's no "one size fits all" advice when it comes to helping a baby sleep she offers personalized sleep consultations and has helped parents all over the world. Violet has also been featured in many publications such as whattoexpect.com, moms magazine, care.com and others.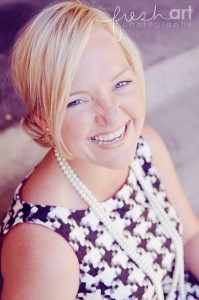 ERIN MECKFESSEL – United States – Central Region
ERIN MECKFESSEL
I became a certified infant and child sleep consultant because I witnessed that many parents were struggling with their children's' day and night time sleep. As I looked more into the field, I quickly realized that parents were confused as there were so many books, parenting styles, blogs, research, and opinions on child sleep. Many of the parents were seeking sleep advice from their pediatricians but these pediatricians simply didn't have the tools nor the time to answer all their concerns and give the support that is required. My mission was to become an effective source and support for parents to help them establish healthy sleep habits. As a certified infant and child sleep consultant, I am committed to empowering parents with the know-how and tools they need to gently guide their babies or toddlers into healthy sleeping habits. I don't use one specific approach for guiding infants and children to healthy habits because every family is different and their are so many variables we need to take into account when finding the right fit. I truly love my job and career choice. It is very gratifying to know that I am giving parents the tools for a more rested, happy family.
ROZANNE HAY – United Kingdom
ROZANNE HAY
From working for the Red Cross at the age of 12 to running and leading international charity and youth rehab organisations, I always knew that I wanted to dedicate my life to serving and helping others.
My professional background includes certification as a Child Sleep Consultant, as well as qualifications in post natal depression and breastfeeding. This combined with sensory integration and sign language help me ensure that every member of the family, from baby to parents affected by sleep deprivation, can benefit from support into healthy sleep.
Equally as important as my skills and training , my personal experiences inform the way I work with families to create successful sleep strategies. One of my four children experienced allergy and reflux issues that caused sleep deprivation and without nearby family I was unsupported in an exhausting situation. This gave me great empathy for families struggling with similar problems. My childhood in rural Africa gave me the insight to support children to independence, rather than supporting children to dependency. This is a common reason why I am asked to help. My background and experiences allow me to share positive techniques to master attachment parenting and soothe children.
I have a specific focus on helping families where the debilitating effects of sleep deprivation can be magnified by health or learning issues and I am passionate about the right of everybody to have a good night's rest, based on establishing successful and healthy sleep habits. Encouraging babies and children to feel secure is a vital part of my work, tested in many hundreds of successful scenarios, and the certainty of security boosts parent confidence as it helps build healthy sleep behaviours in a child.
'We live life not only for ourselves but for others'
FIONA HAUPTMAN – BEN DROR AASM, ADMT, Dip. C.O.T – Israel
FIONA HAUPTMAN – BEN DROR
Hi, my name is Fiona. I'm a child development specialist and sleep therapist and mother of two amazing children Karni aged 19 and Ori aged 15. The Baby Base Center was founded in 2009, since then I have been able to treat families all over the world and take part in health conventions in sleep and development.
I graduated from Oxford in 1994 with a Bachelor in Physiology. Went on to complete postgraduate studies in child development, movement and occupational therapy. I entered the world of pediatric sleep shortly after my son was diagnosed at age 6 with a genetic disorder, one of the clinical symptoms of the syndrome is sleep disorders. I studied circadian disorders, sleep patterns completing studies through the American Association of Sleep Medicine in diagnosing and treating Insomnia in early Childhood – AMA PRA category, and in addition a sleep counsellors course for professionals. I am currently a member of the International Association of Child Sleep Consultants, British Sleep Society, the American Academy of Sleep medicine
From personal experience as a therapist throughout my life I see a close connection between physical movement and its therapeutic benefits to improve the mental and physical well-being of a person. These insights I apply with occupational therapy, diagnostic & developmental counseling and sleep therapy. My Therapy programs are viewed not only from a health viewpoint, but with an objective eye treating any other issues such as diet, development or behavior.
As a trained professional I have years of experience treating children with developmental delays or severe disabilities and i've had the honor to help hundreds of families worldwide.
OLGA DOBROVOLSKAYA – Russia
OLGA DOBROVOLSKAYA
I am a mom of two boys, who are very close in age (only 19 months apart). Just as many other first time moms, I was completely unprepared for sleep deprivation that comes along with a new baby! I knew they are supposed to wake up often – but 8-14 times a night? Was it normal? Doctors just shrugged my questions off by saying that this is how my kid is wired. So I went looking for help and found an amazing consultant, who helped us sleep better very soon! And that was an A-HA moment for me: so many mothers in my country are putting all their super powers (mommies are super-heroes, you know) to function on very little sleep, bounce a 12 month old 7 times a night, inventing new games to entertain a fussy baby who is just tired! They needed help and I was ecstatic to share all that amazing knowledge of sleep science that gives amazing results. I became a sleep consultant.
My teaching degree, basic medical education, lactation counseling expertise, extensive experience in working with children have helped me to grow a successful career focused on helping, caring and celebrating well-rested families all over the world. Soon enough my work became recognized by Russian Association of somnologists, Johnson's Baby brand, doctors and parental educators.
I keep learning every day both in formal way and from my amazing little clients. My services are being perfected constantly to make sure every family that comes looking for help, gets well-deserved rest soon, and my biggest reward has always been a text in the morning "we all slept soundly 12 hrs tonight!"
KEL WHITTAKER – Gold Coast (Australia, New Zealand)
KEL WHITTAKER
Kel works one on one with clients on the Gold Coast and leads a team of sensitive sleep consultants across Australia and New Zealand. Kel feels her understanding gained through her Bachelor of Psychological Science (including attachment theory and cognitive development) have been fundamental in adapting her approach. She holds a certificate in Insomnia Diagnosis and Treatment and certificate in Infant Mental Health Foundations (University of Auckland) and is trained in crisis counselling (Lifeline Australia), a Certified Child Sleep Consultant and Happiest Baby Educator. She is currently completing a Master of Social Work, to broaden her focus on understanding the child's perceptions and adapting family behavioural interventions to be more considerate of the child's cognitive and emotional abilities. Kel is a Professional Associate of Attachment Parenting International, and a published contributor to the International Maternity & Parenting Institute and a featured Wisdom Expert for the Birth Institute. Kel is proud to share her thoughtful program approved with International Institute for Complementary Therapists. She also has a background as a Childrens Ministry Leader (ages 1-4 years). Prior to her relocation to the Gold Coast, she was recommended by Pediatricians at Royal Darwin Hospital and invited to present to their board. Throughout her experiences with assisting parents, she has shaped her practice of assessing and coaching parents with sleep issues to one that ultimately listens to the client and guides and counsels them to find their own solutions from a place of love and understanding. Despite her training and experience, Kel does not claim to be a Parenting 'Expert' – the world does not need more Experts, it needs Encouragers.